January 2016
Superman Lied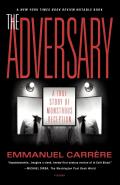 In Emmanuel Carrère's true crime book
The Adversary
, Jean-Claude Romand spends eighteen years pretending to his wife, children, parents and friends that he is a doctor working for the World Health Organization. On the verge of being found out, he murders his wife and children and parents, then sets his own house on fire in a failed attempt to cover up the crime and end his own life.
He confesses, goes to jail, and in the end, he becomes a fervent convert to Christianity -- he seems to believe in his own redemption. But does he, truly? Romand has been lying to himself so long it's impossible to tell whether, even in his most private moments, he is sincere:
He is not putting on an act, of that I'm sure, but isn't the liar inside him putting one over on him? When Christ enters his heart, when the certainty of being loved in spite of everything makes tears of joy run down his cheeks, isn't it the adversary deceiving him yet again?
He's lying to remain the man they think he is -- someone who earns money, supports a family, and whose name carries importance in the world. By the end, he's lost the ability to tell the truth even within himself.
And so, as I'm trying thinking about stories about men, I'm naturally drawn to thinking about liars; lies and fiction and double lives and alter egos. Stories where men are liars, and how their lies make them the men they are.
Men in fiction lie, even the beloved ones -- Jay Gatsby, Holden Caulfield. Don Draper does. Clark Kent, or Kal-El, or whatever his name is. And maybe they have to. There's an overwhelming pressure, under which the truth buckles and cracks and shatters -- pressures of status, of finance, of finding intimacy and escaping intimacy, of self-preservation, of survival. "Just be honest" -- if only one could! If only the truth weren't a sharp-edged lethal moonscape of a world, no place for a man to live. If only you could just explain it all. If only there were ground there to stand on. If only there were air a man could breathe.
Take the case of Superman. When he starts out, he's actually kind of a jerk. He doesn't fight supervillains -- there aren't any -- just ludicrously overmatched human beings. And so there's no fight, he just kind of torments them. He lures them into fighting then laughs in their faces as the bullets bounce off him. He toys with them, devises elaborate punishments couched as moral lessons. He is an altogether terrifying superbeing.
Then there's the Lois situation. As timid journalist Clark Kent, he's obviously in love with Lois; he stammers and fawns on her while she despises him. But then, Lois loves Superman with a desperate, cartoonish passion. But as Superman, he completely doesn't care. When Superman shows up he saves her but then brushes her off, gives a wink and disappears into the blue.(1)
It's not even clear at that point why he has a civilian identity -- it's just an odd, mean little game. He offers her Clark Kent, knowing she'll refuse. In his thoughts he's a little bit sly about it, watching what a jerk she is to the pathetic reporter. Then in his Superman identity he's almost cruel about it. "If you don't want me as Clark, then you can't have me as Superman."
Why do it that way? Why doesn't Superman just ask Lois out? Because he's got to let her fail the test. He wouldn't want anyone who wanted Clark Kent, but he'll never forgive her for rejecting him. He's like an MRA crusader before there was such a thing, donning a disguise to avenge his own friend-zoning.
And then there's the real person, almost forgotten in the midst of this: Kal-El, the kid they sent away. In his passage through space his grief magnifies him enormously. By the time he arrives, he's super-kid, the perfect and magnificent. The only thing that brings him down is Kryptonite, the wayward substance of his home planet, a fragment of the enormous wholeness of what he lost, the real child he was before this whole drama happened, and he can't live with that; he's literally allergic to an authentic understanding of himself. Better to be these two puppet identities, forever. You can see in those moments when he thinks he'll be discovered, how alarmed he is. His whole gallant act rests on keeping that sleazy lie together. Superman knew it, the truth is poison. The truth is glowing green ruin.
Later superheroes at least try to rationalize it as a safety measure -- if they used their real name their loved ones would be in danger.(2) And those loved ones, well -- ha -- they couldn't really play in this league anyway. Better keep the private, extraordinary, exciting part of their lives, the web-swinging, the cosmic battles out of it. The moms and girlfriends could never handle the real shit! Swing around on bungee cords punching suckers in the mouth -- whatever you want, bra! -- it is a real party as long as the women don't get involved, bringing things down with their yelling and tears, their kids and family dinners.
Which, of course, is the part of the story they generally get stuck with (3) and yet somehow the story has to include them, or who would one rescue, or return home to? Who else would we represent the normal life we depart from to fulfill our dreams? It's always the ladies with the thankless job of begging us to abandon our dreams and stay home. We saw it most recently in Bridge of Spies, where we watch Tom Hanks's likeable old-time lawyer character lie straight to his wife's face, so he can go personify American virtue overseas. "She just can't handle how awesome I am," he seems to tell himself.
If there's a poet laureate of the masculine lie I would have to nominate John le Carré, that king of Dad Lit and honestly (I would argue) a rather profound writer. A Perfect Spy is probably the masterwork, a painstaking account of a double agent's life and upbringing by his father, the sordid small-time crook who makes him the liar he is. But Tinker, Tailor, Soldier, Spy is just as good, an intricate creation and unpicking of cover stories and double-crosses.
Cold War espionage is history's gift to narratives of mendacity. The spy's whole competence is to manufacture and manage cover stories, to float between identities with a gun and a briefcase, weightless and nameless and cool. Lying is given a lonely nobility and glamor, lying in the service of a far-flung regime, Step off the plane with a fresh passport and a hotel room, into the rarefied jouissance of the casino strut and the silenced pistol. But at its heart its the same business, the made-up story and the crushing terror of being found out.
Jean-Claude Romand is the extreme toxic scenario but it's paradigmatic of how the deck is stacked against the truth. Nothing's ever going to fit your cover story perfectly, not in the Cold War world of gendered narratives. Nobody's everything their gender wants them to be, or the perfect heteronormative partner, and so there's always going to be a little bit that gets swept under the rug, omissions and hesitations and queer little fabrications, what you tell your partner, your parent, yourself. And then before you know it you're undercover, pistol at the ready, skulking in the hall of mirrors, maybe for good. Perhaps the best outcome is to realize that we're all in there, together.
(1) Yes I know, in later iterations Lois ends up knowing everything but that sort of lets the air out of the conceit. Without the passive-aggressive thing they're just a smug power couple.
(2) Except Batman, who (properly portrayed) doesn't have a girlfriend at all. He just wears a mask to frighten people, for which all respect.
(3) Caveat here because Lois is actually a quite gutsy investigator. And we'll save Catwoman for another time.