March 2016
Beautiful Zero by Jennifer Willoughby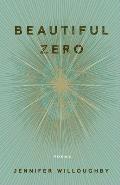 Jennifer Willoughby's debut collection of poetry, Beautiful Zero, is fun, amusingly brutal, and occasionally mystifying. One of the highlights is "This Year Has My Name on It," in which the title itself calls to mind all of the ridiculous New Year's resolutions one comes up with in December, holds true to in January, and begrudgingly lets go of in February. She tells us that it's the year of the horse (2014-2015) and she doesn't like that an animal represents the forthcoming year, as:
Animals are magic and time
pops with dumb quotidian stuff: Year
of our first kiss. Year of crumbling ducts.
Year another sequin had to be removed
from the solar system.
The first line above seems like a silly child's argument, and yet how can you disagree with the poet's statement? She dares you. But despite that, how can you say that anything she lists is "dumb" or "quotidian"? Think of the arguments made for Pluto, how passionate people suddenly became about defining what is a planet in our solar system. How could a first kiss -- even in this possibly ironic tone suggested -- not be exciting and strange and memorable?
I found myself enjoying the paradoxes and conflicts within this poem, which refers to the moon as a "beautiful zero," which hopes that: "Maybe if I go away, I'll / embrace what it means to be here." The poem hits you in the face, confronts you to ponder its strangeness, even when using this clichéd thought that you can only appreciate things truly when they're gone. Milkweed Editions, Willoughby's publisher, would agree about the strength of this poem, for in lieu of description copy on the French flaps of their publication to entice buyers, they've opted to reprint it poem in its entirety. How daring -- and yet how appropriate here.
Willoughby attacks American duplicity in the beginning of "How We Love Geography": "O my incumbent Americans, my giant pioneers, / my over-confident drivers, it's not like this place / was ever really respectable." What rough words delivered to us during this highly animated American presidential election season. What a take on maps, that seems to be just as appreciative in the complexities and contradictions and fallacies they provide as Elizabeth Bishop's "The Map."
She seems to me to inhabit characters who are in a state of arrested development: voices that seem so sure of themselves, yet you know they're just as uncertain and terrified about their decisions and reflections on their lives as we are. Just take the concluding lines of "I Am Free to Destroy Myself":
My epiphanic hair goes
ballistic in the wind that geo-codes
a precise time of death into my DNA.
Now preverbal, now decompensating,
now split by a mescaline sense of grace,
I'm at the amphitheater with a cast of
thousands weeping at King Kong's steely
nemesis and love's abdominal fist.
I imagine that if Liz Lemon of Tina Fey's 30 Rock had been a poet (and an intermittent smoker or drug user), these are expressions that she may have come up with. Love is scary and sometimes cruel. Science has a cycloptic authority that oppresses. "A mescaline sense of grace" feels like it could be used in a Pynchon novel, and it should be in our lexicon.
That's not to say that all of the poems here are so grabbing. I was less intrigued by the Kaiser Variation sequence that splits the book in half, all oddly tied together by Kaiser Permanente. And perhaps a more diverse range of tones and moods wouldn't have gone amiss. But the playfulness of this work should resonate with the reader and allow them to be comforted as they are confronted with the strange realities of our smart phone-, self-obsessed era.
Beautiful Zero by Jennifer Willoughby
Milkweed Editions
ISBN 978-1571314802
96 pages