March 2016
Viability by Sarah Vap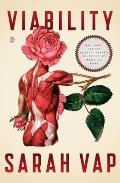 Poet Terrance Hayes describes poetry as "an arrangement of derangements." Sarah Vap's sixth book, Viability -- a collection of 159 brief prose poems -- certainly fits that description; but it also fits the obverse description: "a derangement of arrangements." This is poetry that calls into question our entire capitalist economic system as well as the sexism, racism, and brutality that capitalism supports.
The topics and themes are ones that Vap has touched on in her other work, including Dummy Fire, which won the 2006 Saturnalia Books Poetry Prize, and American Spikenard, winner of the Iowa Poetry Prize in 2007. More recently Arco Iris, a personal and transpersonal travelogue and love story told in poetry, was named a Library Journal Best Book of 2012. Teacher as well as poet, she is currently completing a PhD at the University of Southern California.
In her "Notes," at the end of the book, Vap reveals sources of inspiration and language that appear in the poems. A major one is the dictionary of economics terms found at the website Investopedia.com, from which she directly quoted definitions as prose poems, like this one:
Bo Derek: A slang term used to describe a perfect stock or investment. In the 1979 hit movie 10, actress Bo Derek portrayed the "perfect woman," or "the perfect 10." This term was used more often in the early 1980s, after the movie 10 first came out. Nowadays, the name of a more current celebrity, like Jennifer Lopez, might be used in finance jargon.
She also "widely sampled" The Economics of Slavery in the Ante Bellum South by Conrad and Meyer:
Was the southerner his own victim in an endless speculative inflation of slave prices?
and widely sampled the Guardian article "Trafficked into Slavery on Thai Trawlers to Catch Food for Prawns" by Hodal and Kelly:
It seems that the parlous state of fish stocks and the pressure to monitor supply chains for sustainability has made the issue of slavery visible. Two retailers who did not wish to be named said that when they started to look at where fish for prawn feed was coming from, it became clear that the boats engaged in illegal fishing were also likely to be using trafficked forced labor.
and widely sampled the Kama Sutra within her poems.
Daydream: Amidst all this lovemaking God and animals must enter, if she then crosses her thighs it becomes a "circle." If, in the "mare's trap," which can only be done with practice, she grasps him like a mare so tightly that he cannot move.
Vap begins her book with two epigraphs:
The more torture went on in the basement, the more insistently they made sure the roof rested on columns. -- Adorno

Where there is no love, put love -- and you will find love. -- John of the Cross
John of the Cross -- also known as Saint John of the Cross -- a sixteenth-century poet and Spanish Christian mystic, author of the spiritual canticle entitled Dark Night of the Soul. Throughout Viability, Vap uses a theme-and-variations approach to John's epigraph line while, in her words, "widely misquoting" him:
Where there is no love, put information. There you will find the algorithm. Put even more information. The algorithm will increase. Everything you want will increase.
The sampling referred to in Vap's notes is a technique and term more normally associated with music than writing. Indeed, Viability can be read for its music, particularly in Vap's original lyric poems-in-prose about childbirth and mothering as bodily experience, and in the way Vap plays her misquotes of John of the Cross: at times as a kind of jazz counterpoint and at other times as a Greek chorus against the steady, relentless beat of the economics quotes, and accounts of slavery and its economics.
Because of these arrangements or derangements, this is a book that asks to be read straight through from end to end; its poems are carefully selected to dance with each other in topic and form. Just dipping into it one poem at a time doesn't allow the reader to hear the music of it, nor realize all that happens in the interstices between the poems. Here the reader carries an image from one page to meet the thought on the next -- lines and paragraphs from the Investopedia dictionary interact with visions of fifteenth-century mysticism, and lyric poems of flesh and blood human mothers and babies. For example, this pairing appears on facing pages:
Where there is no speculation, put inflation -- and you will find love's victim. Put the victim. Put operations all across the victim. Put very quiet calls for each other. If I understand, what we want here is an increase. -- John of the Cross

Night, two months along. I wanted an infant, I put an infant, and so there I will find an infant. I imagine we are together right now. Your fingers, we will sleep. Our daydreams -- wishing for you across all of time's thickness -- across all of dark water and into entire night. Toothless and devout, the wormhole you could slip through. No light at all untelling our quietest calls for each other within the small time that we could be given. Darkness. Quiet. A speed, excessively given. Infant, our worlds are almost held together, will help be given.
Viability is not an easy read, but it is a profoundly imaginative work of art. It is also the perfect book to read as we confront the billionaire rhetoric we will hear in this year of presidential campaigns. As Mary Jo Bang says in her citation for the National Poetry Series: "This polyphonic assemblage brilliantly collapses the gap between lyric poetry and life." Where there could easily have been cacophony, Sarah Vap offers the reader polyphony, a many-voiced and brutal study of capitalism, making us look at the effects of the continual pressure to increase -- effects on our bodies, our social systems, and life itself. We are left with the chilling thought that capitalism owns and monetizes human beings just as does slavery. We are ourselves objects, products of the economy, useful primarily as targets for marketing, as data on profit and loss sheets.
Viability by Sarah Vap
Penguin Books
ISBN: 978-014312828
176 pages