January 2016
Justice by Tomaž Šalamun, translated by Michael Thomas Taren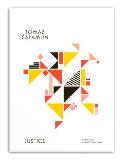 Tomaž Šalamun was one of those rare artists who got to live -- at least a little bit -- in his own legacy. When he died at the very end of 2014, poets -- American poets, especially -- were quick to gather in a circle around this legacy, writing words of praise and admiration that were not simply eulogies but reassertions of Šalamun's crucial role in the experimentalist impulse that has so gripped American poetry in the past two decades.
But Šalamun didn't just live in his own legacy -- he worked in it. This necessarily informs how we approach his first posthumously published translation, Justice, which begins a series of previously untranslated works that Black Ocean will be bringing us. If in previous reviews of Šalamun's work we see the words "influential," "experimental," and "important," over and over again, we also see the word "exuberant," and the astonishing thing about Justice is just how exuberant it is. Comprising previously untranslated works that, according to the publisher's note, span several collections and unpublished works from his career," this is a fascinating selection that leaves us asking many questions about its assembly.
Michael Thomas Taren -- the skilled translator of this new work -- answered a few of them for me (the complete interview is published with Michigan Quarterly Review), and particularly telling is what he had to say about Šalamun's attitude toward to America: "He always thought his legacy would be found in America. America grafted onto his encyclopedia of references." While we can't pinpoint the origin or precise age of the poems in this book, we do know that they were chosen, translated, and assembled by a seasoned poet and one of his longtime translation partners during what essentially amounts to a heyday of American fandom and support. Which is to say, this book evidences big confidence -- it is Šalamun at his most exuberant yet. From the first poem, we get the idea (NB: many of poems are untitled; I will cite titles in the event of titled poems):
Not a minute of my life
was lost.
Tanks were there
and altars in paper boxes.
White grass burned in white flames
and I was on cocaine.
Not a minute of my life was lost: it is a hauntingly reflective way to begin a collection that would end up being published posthumously. And the entire poem serves as a doorway inscription to the collection, laying out in no uncertain terms the crucial premises: that time will be filled to the utmost because of the threat of annihilation and that the poet will attend -- with narcotic focus -- to the scene of that annihilation.
The poise of this opening poem -- the translation falling so evenly in its beats and stops -- disguises two different kinds of erraticism that will come to define the collection. The first is a verbally mimetic erraticism compelled, indeed, by an urgency to pack as much as possible into the radical limitations of the (usually single) page. A few pages off the opening we get lines like these:
father! father! near water! leant by water!
shrieks, upanishads, a toboggan and lamps
here he skated, licked a salty dandelion
it was scratched, sketches lines with wings
a huge vacuum cleaner, a filter like drying hoods
a home expanded by a simulator, warm wine
an elephant's head, torturings, nailed bones & UDBA men
a zoo, my uncle plays with fondue
he throws his tits on the poster, swedenborg is a skunk
with shrimps, big ships my stock, butter
teddy bear! teddy bear!
This catalog has a palpable neural quality to it, branched trajectories burning their fuel out quickly, in two, three, or at most four beats -- all cumulatively working like a rattle of memories being relived in real time. The contrast to the opening poem is stark, and it's evident that Šalamun intends a kind of call and response between the two styles, which really gets established in the later sections of the book (where each well-behaved and usually titled poem is attended by a wilder, untitled, shadow poem).
Dotted heavily throughout this counterpointing structure are a variety of other approaches that seem to ornament the book like kinds of exotic fruit. There is "Zeus and Hera," a playful retelling of the myth: "Poseidon had to nail his footstool / by himself. He cracked jokes and called / names and then jumped below / the typical surface of the Ionian sea." There are poems of very clear and acute scene making: "The girl in Turkey lies down on the rocks, / her fiancé takes a picture of her. / Her body boils, / rocks threaten her. / She knows the photo will be taken." There are poems of ethereal abstraction, such as "After this Night:" "To you, to you, water, / water between mirrors. You are the new / young Prince. Confused. Not yet aware / you wetted the cosmos." And there are poems of elemental surrealism, such as this one, which surely makes one think of Magritte: "A woman. / A man holding a sphere and a stick. / A woman. / A man holding a sphere and a stick. / A man plowing. / A man carrying a key. / A man holding a snake and a spear. / A woman."
There is a joy to this sort of diversity, but it also indicates the second, larger erraticism that defines this collection -- an erraticism of style itself. That this collection is really an assortment -- untranslated poems spanning different projects assembled here as a selected works -- gives reasonable justification for the seeming incongruity of the poems. But surely that doesn't satisfy this reviewer; surely there is more afoot.
Reading across Šalamun's poems has always been a textured experience, a highly energized ride through many different landscapes, micro moments where we might feel for a flashing second that we are in Borges, Milosz, H.D., Ginsburg, Lorca, Baudelaire. This is true in Justice to a maximum degree. There is a kind of visceral creative force behind this book, a raw energy that I desperately want to and so shall describe as the procreative force of Nature -- capital "N." Exclamation points abound and between them an effluvium that aerobicizes the pleasures of imagination and poetry reading.
Are you starting to see what I'm driving at? These are some of the most coital poems I've ever read -- knocking lamps off of dressers and digging nails into the back kind of stuff:
the passion of the mob, kernels of logos
the god of green rhymes, of fur lined coats
breasts of a young snake, snails' membranes
hunger is blood, hunger is power
colors, the skin of golden blacks
dead guards, hands of lacquered idlers
hoods, killed eros's gleam
smooth butterflies, the cloths of his blood
he appeases from far away, he shines from far away
close by he walks, devoted pilgrims
the circle of grass, the linearity of wood
fires on meadows, burdens of pasture
how dreadfully the mouth opened
berries of the conflagration
I know this is a cute idea and everything, and it may be that I'm too eager to read into one of the section titles of the book, "I Value My Semen" (the other section titles are "The Waterfall," "Justice," Red Mustang," "The Nightingale," and "Wind but Nice"), but the more I look at the poems in Justice, the more I see this as its prevailing poetics: the poetics of ejaculate. Šalamun leaves us this line all by itself on one of the pages: "I see sex I eat sex roofs are soaked by rain." Seeing, eating, the sex, and maybe the percussion of rain slamming its body against us or maybe the glistening post-coital quiet.
It's radical territory for sure. There is a similarity of this sensibility to the scatalogical one (in another poem, "Peugeot," we get this concision of Julia Kristeva's theory of abjection: "He visited // the psychiatrist, / the psychiatrist told him: // Squat!"), this casting off, this sense of language as excrement, but Šalamun goes further to bend it toward affirmative and even spiritual ends. The climax of imagination as it is rubbed into its frenzies is a kind of prayerful exercise, one in which the otherness of the world is de-severed and the world is drawn into the dynamo of the poet's utmost creative project. If the poetics of scat separates the speaker from himself, the poetics of ejaculate sprays him (or her -- while this poetics is gendered, I don't think it is exclusionary) wholesale into a nebulous cloud of new and unpredictable possibilities.
Which is to say the poems work to transfigure tradition (hence the literary guises I mentioned earlier), to chew up the past in order to see the future, which is to say, the poems are religious. There are many references throughout to religion, Christ, John the Baptist, and so on, but I like this moment from the one long poem in this book, "The Visit" (which is chockfull of extraordinarily good moments, like this tidy line: "the star is waiting to be crushed."):
the world travels in clouds and flowers
who sees knows
all is the same all is one
it is soft is soft and pierces
until now I called the gods now
they came they are here in me
with me we are colors we are colors colors
This is, I hope you can see, a densely comprehensive example that reminds us of how prevalent the theme of sexualized penetration is in religious traditions: the piercing, the being inside, the coming, and the transformation that results ("colors, colors").
Now, this union and the generative outcome is made all the more pregnant by the fact of Šalamun's recent passing. These poems are a celebration of a life of not one minute lost, of a kind of consummated love with the world. My short review, with its agenda for this poetics of ejaculate, can't possibility substitute for your own experience. If you are reading this to decide whether you should buy this book, here's the short answer: of course you should. I was, throughout, shaking my head at the strength of affirmative will with which Šalamun is at constant pitch, the way he can explode in such a relaxed way, the fact that the edge of annihilation gives him -- and us -- these floribundas. Just as the opening poem eerily seems to foretell the posthumous context of this collection, so too does the closing poem:
When I'll breathe, I'll die.
The reward is terrible.
I have everything.
There're lumberjacks.
The hour came.
There're apricots.
I hear touches.
There's a lock.
They said.
They danced.
Give me your cap.
I breathed.
I fell asleep.
You were fast.
I was late.
I have heard.
Justice by Tomaž Šalamun, translated by Michael Thomas Taren
Black Ocean
ISBN: 978-1939568113
152 pages