December 2015
What Diamonds Can Do by Claire Keyes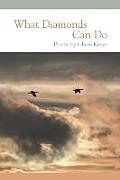 "A woman of substance" is a catch phrase that might be applied to Claire Keyes, as readers will meet her in her second book, What Diamonds Can Do. These are poems by a woman who possesses a mature depth of experience, and the grace and skill to express hard-won insight.
If Keyes is a woman of substance, she is also a woman of many parts. Topics explored in this book range from Florida to China, family to Greek mythology, youth to old age, Queen Elizabeth I to Einstein. She writes primarily in free verse organized into irregular stanzas, occasionally in couplets or tercets. Her lines vary from short to long with a few poems in very short lines arrayed against white space.
The book is divided into three subtitled sections, starting with "Lose Something Every Day," a line from Elizabeth Bishop. Poems in this section form a rather idiosyncratic catalog of losses -- from more expected poems about suicide or impending death, to the death and dismemberment of a favorite tree, and fishermen shooting icebergs. Readers will likely carry images from "Poem in Which Many Plates are Broken" with them long after they have read the collection. Here is a Greek workman dancing in a taverna on Santorini:
He rises from his table to join three men, stooped over
two guitars, a bouzouki. There's heaviness in his feet
and legs as he dances the hunger of his life, slowly
spinning, turned by forces outside his control.

He is Achilles, desolation in his hero-heart:
his beloved friend slain. Terrible loss travels
through his trunk and limbs, his feet attacking the floor,
the music turning him faster and faster until we think
he must break.
But he doesn't break, instead Keyes and her party of travelers accept an invitation to join him:
We surprise ourselves, rising
to place a hand on a shoulder, like comfort -- or trouble,
everyone forming the line that winds in and out,
everyone connected although we don't notice it
most of the time, as if what's happening in your soul,
your country could have nothing to do with travelers
who watch aghast as waiters fling plates onto the floor
and they shatter; fragments flying.
The poem is an invitation to the reader to join as well, introducing us to Keyes's narrative style and striking imagery, in poems that often connect us to mythology.
"Winter Beach with Gibbous Moon," the last poem of the first section uses surfers and a walk on the beach to bring readers out of winter and into the poems of the second section, "The Labyrinth," moving from experiences of loss into the notion of being lost or struggling to navigate life's labyrinth:
And we need their distant figures
timing a wave's best surge, pointing their boards,
then riding the curl.
"The Midas Touch" is a surprising, but probably inevitable, mashup that moves from the daughter of King Midas to a visit to the auto muffler shop, and drops into a labyrinth of mixed messages with these lines:
I don't know who
she thinks she is
or why Midas thought
he was such hot stuff
the gods would not do him dirt.

And what do we remember?
Not a fool brought low,
but the magic
of his touch.

The third section, "Beyond Ruin" considers the ways in which people overcome, move beyond, or accommodate losses and difficulty. The initial poem "Talus" sets up the notion of moving forward on slippery slopes. It's such an apt image that talus could be the name of the section rather than just this one poem.
The title of the book comes from the story of Sophia Hawthorne, recounted in the poem "What Diamonds Can Do." The narrator of the poem comes across poetry written by Sophie on window glass at the Old Manse, first home of Sophia and husband Nathaniel. And in the poem Keyes gives her readers one of the moments of sly humor that season this collection:
Granted, Sophia was the wife
of you know who and could commit
what is, in essence, graffiti. With no repercussions.
And granted, she must have been godawful bored
when he took off the morning after the snowstorm
to visit Thoreau. And left her alone with the baby.
A blurb from poet Ann Fisher-Wirth on the back of the book uses Adrienne Rich's words "heroic [...] ordinariness" to describe the collection. There is nothing ordinary here, but rather an earthiness and passion expressed with incisive grace, poems etched on the window Keyes has given readers through which to view life, perhaps hers, perhaps their own.
What Diamonds Can Do by Claire Keyes
Cherry Grove Collections
ISBN: 978-1625491282
96 pages