January 2016
Leap Before You Look: Black Mountain College: 1933 - 1957 edited by Helen Molesworth, with Ruth Erickson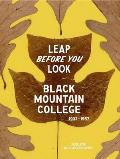 Although tucked away in the rural mountains of North Carolina and only in operation from 1933 until 1957, Black Mountain College remains the preeminent experimental arts educational institution founded in the United States during the last century. Leap Before You Look is the most recent publication to explore and celebrate the invaluable role the institution played both in terms of the arts and the world of education, along with how the inspired manner in which the school brought the two together was foundational to its structure.
Individual artists associated with the school appear as major figures within the highest echelons of the creative arts. Faculty and students alike excelled in numerous disciplines from painting to music, poetry to weaving, pottery to dance, drama to photography. The list of the major artistic constellations out of which came but a sampling of the associated individuals involved with the school over the years include: Bauhaus in Germany (Josef and Anni Albers, Marguerite Wildenhain, and Xanti Schawinsky), Abstract Expressionism in New York City (Willem de Kooning, Franz Kline, and Robert Motherwell), and what has been referred to as the Black Mountain School of Poetry (Robert Creeley, Robert Duncan, and Charles Olson). Historical events that occurred on campus include both the failure of Buckminster Fuller's "Supine Dome," composed of single venetian-blind remnant strips connected together, which simply collapsed, and his early successful geodesic dome models, as well as the infamous August evening 1952 performance of John Cage's Theater Piece, No. 1, generally recognized as the first "happening" of all time, involving impromptu performance and artistic exhibition by some half-dozen collaborators. The school was also the first institution of higher education in the Southern US to break racial barriers of segregation.
As the exhibition catalog for the show of the same title, which opened this fall at the ICA in Boston and will be traveling next to the Hammer Museum in Los Angeles, Leap Before You Look is an oversized treasure trove of exquisite reproductions of visual art and an abundant number of photographs, along with writings by no fewer than twenty-two contributors. This is by far the most extravagantly published version of the school's history. The quality of photographs and photographic reproductions (an impressively high number of them appear in color and/or large size, often given a full page to spread across), combined with the diverse number of voices telling the story, immediately set it apart from the two most obvious precursors, Black Mountain College: Experiment in Art (2003), edited by Vincent Katz, and The Arts at Black Mountain College (1987) by Mary Emma Harris. Though the high quality of these two previous books should not be overlooked, given Katz's excellent curatorial work along with his invaluable accompanying essay, and the fact that Harris's book was the first to tackle the subject from such a perspective.
Indeed, at first glance it would appear little to nothing new is revealed here. All essential elements of the story have been covered in the previous surveys mentioned. In fact, many entries cite either Harris or Katz multiple times, especially Harris. Yet the inspired arrangement and organization of the numerous and diversely authored entries do retell the story in a fresh manner. Following a meaty historical overview, "Imaginary Landscape" by Helen Molesworth -- which nonetheless proves closely attuned to offering insights of accomplishments and contributions at the individual artist level -- there are in general two complimentary styles of entries: those slightly lengthier that cover a particular group or period (e.g. "Musical Cosmopolitans at Black Mountain College: John Cage, Lou Harrison, and Stefan Wolpe" by Brigid Cohen, or "Summer Session 1948" by Eva Díaz) and shorter ones focused upon a particular student or faculty artist along with a specific work of art (e.g. "Jacob Lawrence: Watchmaker" by Bryan Barcena or "Robert Duncan: 'The Song of the Borderguard'" by Steve Evans). The result forms a sort of visual encyclopedia of Black Mountain unlike any other. Although some entries, when encountered individually, may appear rather slight, the effect of the whole gathering is quite becoming.
As far as offering fresh insight, perhaps not too surprisingly, given the high reproduction quality of its images, Look Before You Leap is arguably strongest when it comes to its representation and utilization of photography. Every photograph is not only reproduced in significant size, including several familiar ones larger than in any previous publication, but the opening pages present a series of full-page black-and-white images of students in the midst of various activities, both at work and at study or practice, immediately acclimating readers to the active environment of the campus. It has the feel of a classic school yearbook.
In addition, Brenda Danilowitz's "Josef and Anni Albers: Mexico and Modernity" reproduces several striking shots Josef Albers took of the Pyramid of Tenayuca, including an outstanding opening full two-page spread, along with images of Monte Albán. Danilowitz's commentary explores the probable influence these structures played upon the art practices of both the Alberses. Elsewhere a two-page series of Kodachrome color slides by Josef Albers present a Dada-esque cornucopia of "Black Mountain College students and faculty in costume for Valentine's Day Ball, 1940." Then, too, there are newly informative, to this reviewer at least, entries such as "There is Another Way: Hazel Larsen Archer, Photographer, Educator" by Alice Sebrell, which strongly presents not only her photographs of artists, students, and buildings at Black Mountain, but also argues for Archer's role as a leading figure around the school.
The path of Archer's varied involvement at Black Mountain is demonstrative of how immersive the educational institution became for a number of individuals. Sebrell describes her developing role after a short initial visit in 1944:
Larsen returned in 1945, staying for nine years altogether, first as a student, then as a teacher of photography. Deeply impacted by the teaching of Josef Albers and R. Buckminster Fuller, she also studied with Lyonel Feininger, Willem de Kooning, Robert Motherwell, Beaumont and Nancy Newhall (who loaned her a Leica camera), Josef Breitenbach, Walter Gropius, Leo Lionni, and Alvin Lustig. From 1950 to 1953, she was a key administrator at the college, first as registrar, then as treasurer. She also sat on the Board of Fellows. From the time of Larsen's arrival in 1944 until Albers's departure in 1949, Albers helped her to "learn to see" through his classes in color, design, and matière studies.
This rich cross-discipline line of influence, as Larsen moves from the role of student to teacher, was quite common over the years with both faculty and students often coming and going over the course of several years. The community at the school was always relatively small, encouraging close-knit camaraderie and fluidity of assigned roles. There were also times when spouses of faculty became students and/or served outright as faculty themselves. "Stowaways" by Eva Díaz traces this near tradition of co-spousal involvement, from the school's very beginning with the Alberses, continuing over the years to include painters Gwendolyn Knight Lawrence and Jacob Lawrence, along with Elaine and Willem de Kooning and a host of other couples. In the case of 1950s pottery instructors Karen Karnes and David Weinrib, Jenni Sorkin details the blatant sexism this, at times, involved: "Consistent with the era's brazen gender discrimination, the college paid Weinrib the salary during their two years at Black Mountain, even though Karnes was the appointed instructor."
Black Mountain was founded by scholar John Andrew Rice, whose radical educational ideas had led to his being fired in 1933 from conservative-leaning Rollins College in Florida. Subsequent investigation turned up no activities worth causing his dismissal, but he was long gone, along with a portion of the faculty and a number of students who all left on their own in a show of support for Rice. With the encouragement of his self-exiled supporters in need of a new college, Rice established Black Mountain College, which was at first housed "on the grounds of a Christian summer camp called the Blue Ridge Assembly in North Carolina," whose grounds and buildings were only used during the summer. From the beginning, faculty and students shared equal voice in developing the curriculum and maintaining the school's financial integrity. Molesworth describes the communal atmosphere of the early years:
The faculty decided not to have a board of trustees, meaning that they and the students effectively owned the school. Given the meager funds, several faculty members took room and board as their sole compensation. Decisions were made in the Quaker meeting style, meaning the community achieved consensus on an issue by speaking in turn and elected representatives subsequently implemented those decisions. It was determined that the students and faculty would live and eat together. They would serve one another meals, and students would work in the kitchen and on the grounds to offset their tuition. They were to be a community as much as they were to be a school. They meant to exemplify progressive education's most prominent theorist and advocate John Dewey's mantra "learning by doing." It was a grand experiment.
The "grand experiment" quickly grew from there. Another plot of land was located nearby around Lake Eden, with a scattering of older cabins and outbuildings, which were quickly renovated. While an architectural plan for an entire campus of new buildings by former Bauhaus members Walter Gropius and Marcel Breuer was finally deemed unrealizable due to lack of funds, it led to construction of the Studies Building, which remained a recognizable landmark of the campus. During what may be seen as the school's zenith years in terms of financial stability, it benefitted in large part from tuition received from students attending on the GI Bill.
Despite the collaborative and open dialogue between faculty and students, gossip and inter-factional rivalry were always present at the school. In 1940, this led to Rice's departure for Yale. Albers took over as rector of the school for about a decade, until he too was forced out and poet Charles Olson was left in charge throughout the final years. Leap Before You Look doesn't spend much time dwelling on the various rivalries that came and went. The final section of Molesworth's opening essay carries the subtitle "Gossip" and more or less acknowledges it's best such matters be left to the well-trodden previous histories of the school, such as Martin Duberman's Black Mountain: An Exploration in Community (1972) and the more personal Black Mountain Days by Michael Rumaker (2003). The closing entry here, Gloria Sutton's "Intentional Communities," instead looks out from the mountain campus to Gate Hill Co-op in Upstate New York and Pond Farm in Northern California, two ongoing communities tangentially tied to and inspired by Black Mountain.
A myth of its own making, Black Mountain College endures.
Leap Before You Look: Black Mountain College: 1933-1957 by Helen Molesworth, with Ruth Erickson
Yale University Press
ISBN 978-0300211917
400 pages