March 2016
Miss Grief and Other Stories by Constance Fenimore Woolson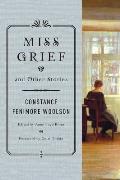 Anne Boyd Rioux, an English professor at the University of New Orleans, has done a substantial service to American literature with a dual feat of scholarship. She recently produced a biography of the excellent but somewhat ignored nineteenth-century novelist and short story writer Constance Fenimore Woolson, and, perhaps more importantly, has edited and written an informative introduction to Miss Grief and Other Stories, an intriguing collection of seven of Woolson's sophisticated, modernist short stories.
It's a small but captivating sample of her output. In her lifetime, Woolson counted among her works five novels, dozens of stories, and numerous poems and essays, though, sadly, she was not writing at the end of her life. As Rioux notes in her introduction, Woolson was broken by ill health and depression during a six-month stay in Venice beginning in 1893, when her resolve to begin writing again on New Year's Day, 1894 faltered fatally. She died falling from a window, a possible suicide, on the night of January 24, 1894. Writes Rioux: "A firm believer in an afterlife that would solve the 'cruel riddles' of this existence, she may have hastened her way there."
Rioux describes Woolson as "a pioneer regionalist without a region of her own." Born in New Hampshire in 1840, Woolson traveled widely in the US and in Europe, and her stories were, to a large extent, a product of those journeys. This collection includes stories set in the South, the Great Lakes, Florence, and London, reflecting Woolson's cosmopolitan worldview, and embodying a strong sense of place with an equally strong sense of character.
Perhaps the finest story in the collection is "St. Clair Flats," which Rioux deems "her most elegiac portrait of what was lost with the disappearance of the American wilderness." In a typically eloquent passage:
The eastern sky was bright with golden light; rays shot upward toward the zenith, where the rose-lights of dawn were retreating down to the west, which still lay in the shadow of night; there was not a sound; the Flats stretched out dusky and still. Two or three minutes passed, and then a dazzling rim appeared above the horizon, and the first gleam of sunshine was shed over the level earth.
Another, "Rodman the Keeper," is a fascinating study of John Rodman, a New Englander who is the caretaker of a national Civil War cemetery in the South, responsible for watching over the hallowed resting place of 14,000 soldiers while maintaining a philosophic view of post-war history: "It is part of a great problem now working itself out; I am not here to attend the living, but the dead."
Woolson continued to set her novels in America after moving to Europe in 1879, while also exploring with marvelous acuity the lives of American expatriates in Italy, Switzerland, and England. The title story, "Miss Grief," was her first such European story and chronicles a young American female writer's meeting with a prominent, older American male writer. Rioux says that "Miss Grief" "suggests the complex feelings she had as she anticipated making [the] acquaintance" of preeminent literary chronicler of Americans abroad Henry James. "Above all," Rioux continues, "Woolson hoped for a mutual recognition of their disparate strengths as writers. (Her writing was known for its originality and force, his for its exquisite polish.)"
When the two novelists met in Florence in 1880, James was writing The Portrait of a Lady. The two novelists became friends and often took walks together, visiting churches and galleries. Rioux also notes this basic distinction between the two superb literary practitioners: Woolson's "literary aesthetic can best be described as empathetic realism, a mode that she adopted from George Eliot, the favorite author of her early adulthood, which she maintained even as she came to know and admire the analytic realism found in James's work." Another story in this collection, "A Florentine Experiment," based on Woolson's relationship with James, reflects her admiration in this passage with a Jamesian ring:
He made up his mind that her aim was to excite remark in their circle; there was probably someone in that circle who was to be stimulated by a little wholesome jealousy. It was an ancient and commonplace method, and he had not thought her commonplace. But human nature at heart is but a commonplace affair, after all, and the methods and motives of the world have not altered much, in spite of the gray lapse of ages.
Of course Woolson's reputation never approached that of James, "the master," although some critics compared her to Jane Austen and the Brontės. Whatever literary stardom Woolson achieved in her curtailed life dissipated quickly after her death. Rioux explains the "precipitous decline" of the reputation of this distinguished nineteenth-century writer -- too little known in our time -- this way:
The growing suspicion in the modern era of expressions of genuine emotion quickly dated her work, which did not shy away from the portrayal of emotional passion and eruptions of powerful emotions, even though these were never the dominant themes of her work. Of even greater influence was the tendency by male critics to classify all women writers as minor as the American literary canon took shape at the turn of the century. Throughout the twentieth century, the narrative of separate literary spheres for men and women persisted, creating a neat split between the major male realists (such as James and William Dean Howells) and the minor female regionalists (such as Sarah Orne Jewett and Mary Wilkins Freeman.) Woolson's work, which participated in both movements and crossed the gendered divides of her own day, fell through the cracks of the dominant narrative of American literary history.
More than a century after Woolson's death, Rioux has attempted a scholarly resuscitation of a writer whose literary life was caught in a gender bind, aiming ambitiously to give us a new appreciation of her life and work.
Miss Grief and Other Stories by Constance Fenimore Woolson, edited by Anne Boyd Rioux
W.W. Norton & Company
ISBN: 978-0393352009
320 pages