March 2016
Good on Paper by Rachel Cantor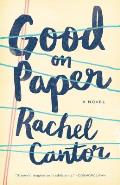 Rachel Cantor's Good on Paper is not so much about the individual struggles of a literary translator soothed into complacency as it is a narrative about the silent intimacy that develops when translating an author's work. For Shira, it leaves her feeling almost as vulnerable as sex with a stranger. The novel's protagonist, Shira Greene, is a loving and attentive mother to her daughter, the precocious Andi, and has carved out a life for her unconventional, small, close-knit family living on the Upper West Side. Although she hasn't seen Andi's birth father in years and appears to be perpetually single, Shira doesn't mind too much. Her childhood friend, Ahmad, has willingly assumed all fatherhood duties, treating Andi as if she were his own daughter. In between floating in and out of temp jobs, Shira's life of patchwork employment is irrevocably changed when she gets a telegram from Romei, a respected Italian author and Nobel Prize recipient. Romei later calls Shari and reveals that he wants her to translate his latest work, a retelling of Dante's Vita Nuova. Initially, Shira is understandably confused, even suspicious that someone is playing a prank on her. Why would someone of Romei's international status and caliber contact her out of the blue with such a hefty request? When she learns that her friend Benny recommended her for the job, Shira jumps at the chance to collaborate with the temperamental poet. It doesn't hurt that his proposed fee is larger than any check she'd earn from one of her temp gigs.
Nothing is what it seems: a theme that is repeated throughout the course of the narrative, coloring the responsibilities and duties of the translator as an author's substitute voice, not a puppet, but a priest repeating the words of a holy prophet. Shira is convinced that this much-needed gig will be the start of "New Life," not the mere opening of a window of opportunity, but a divine chance for spiritual and metaphysical revelations, a chance for Shira to shake off the blues of her stalled writing career. Much like when Dante sees Beatrice for the first time, Shira views the translation as an answered prayer. Cantor seems devoted to ensuring that plot tricks such as foreshadowing and a play-within-a-play are anything but subtle. Even small usages of these devices are all executed with a sly wink and a nudge. For example, Romei's previous works are titled in such a way that they directly reflect the theme of mistranslation and miscommunication: Bad Words, Baby Talk, Nonsense Syllables. The act of translation itself is used as a catchall diagnosis for Shira's relationships with other people: even if you understand the mother tongue, sometimes it simply cannot be translated into an English that upholds the original meaning and/or intent of the language.
Cantor's writing is slick but the highly specific quirks and personalized neuroses of the characters can be a distraction from the more concrete pieces of the narrative. Shira and Ahmad have a sore spot in their relationship, which concerns the death of their friend, T. After Shira grows up and leaves Italy for an adult life in New York, she reunites with Ahmad and T. Too entranced by Shira, who is waiting on the other side of the street, T. steps into oncoming traffic and gets struck by a cab. He dies from the injuries sustained by the accident; Ahmad blames Shira for T.'s death. This wound of shared history is obviously an important factor that shapes the dynamics between Shira and Ahmad, yet T. is more of a passing dream than an anchor. He is meant to be the invisible ghost in the room, a deep hurt that exists in the silences between Shira and Ahmad. It feels as though he's been outlined as a major character, but when examined in the larger context the novel, T. reads as backstory that needs to be compacted. This also applies to Shira's quasi-romantic-will-they-or-won't-they friendship, mentorship, and relationship with Benny, the free-spirited and open-minded rabbi who owns the independent bookstore called People of the Book. At certain points, the romance feels forced, shoe-horned into an already tangled plot. Shira and Benny enjoy a level of intellectual banter that is flirting in the guise of slightly pretentious philosophical discussions on literature, morality, and faith. Shira hangs on to Benny's halfhearted and often distracted affections, perhaps out of the fear of being alone or simply missing the touch of a lover. Yet Benny, like most men of a certain age, is all-too-often tempted by broken women, young, impressionable, unstable little lost girls who wreck his store and chase him down the street in anger. Their interactions fall into a dead-end pattern that quickly becomes tired.
Shira in the role of a lover pining away for an unattainable paramour may lose some of its luster as the novel progresses, but her role as a single mother is compelling. In this pre-9/11 Manhattan, Cantor utilizes the time period to emphasize Shira's fairytale perception of New York. When Ahmad brings up the idea of moving to Connecticut, Shira is horrified. She thinks of Connecticut as a cultureless wilderness, an expanse of green grass and not much else. New York is not only Shira's refuge, it's her cultural lifeline. It's a steady reassurance that not everything in her life is second-rate: she has the privilege and pleasure of living in one of the world's cultural beehives. Her identity as a New Yorker is as integral to her personality as her passion for literature and translation. However, her reluctance to move is not only propelled by selfish desires; Shira believes that the negatives of living in Manhattan are nowhere near the benefits that Andi enjoys: diversity, adventure, a sense of independence, and an established routine. It's clear that Shira wants her daughter to be not just book smart, but people smart: the skill of effortless socialization with all walks of life. Shira she wants her daughter to be a citizen of the world.
Good on Paper aligns the translator with Dante, suggesting that the reader regard Shira as the hero. Shira doesn't necessarily make a very proactive hero, if only because she spends more energy avoiding her troubles than battling them head on. Readers expecting a madcap detective story might be surprised to learn that the novel only borrows from the genre, never completely embracing it. Ultimately, Cantor's prose uses language as a living extension of her characters, but sometimes overlooks the fact that language is only one working cog in their overall construction. By the end of the novel, Castor has tied up the loose threads and Shira's "New Life" finally begins. Like the archetypal hero, she perseveres through the fire and rises again.
Good on Paper: A Novel by Rachel Cantor
Melville House Publishing
ISBN: 978-1612194707
320 pages