January 2016
The Things We Don't Do by Andrés Neuman, translated by Nick Caistor and Lorenza Garcia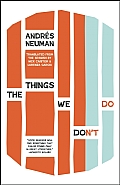 In the new short story collection The Things We Don't Do, Andrés Neuman takes us across the spectrum, through the quotidian. And in those passing, everyday details that fill our lives, we meet people from nearly every walk of life: a president's trials and travails as he checks into various hotels, the death of an academic's wife and its aftermath, the conception and birth of a couple's child, a boy trying to impress a girl and the trouble that soon follows, former friends now on opposite sides of the gun, a potential suicide on the phone with his therapist, and one of the last lectures of Borges, amongst so many others. And Neuman takes us in and out of these stories and worlds with a casual grace. From crime drama to the equivalent of a romantic comedy, he is able to switch it up while maintaining a self-assurance that the reader can rely on.
Though it is exactly this self-assurance (or maybe it is the scope of the collection) that I find myself stumbling over. Now, to be fair, this could be my own bias with story collections, especially those that are not interconnected (not by a city, a building, a cast of characters, or even a certain disposition), but I find myself coming back to this question time and time again: Where does the short story belong? Today, more than ever, there are numerous outlets for stories. Digitally they can be tweeted, put out as blog posts or sold as single story ebooks. In print, there are options, too. Chapbooks are having a renaissance. And for stories perhaps too short to be bound, how about postcards or well-designed prints? The potential is here!
And I don't mean to pick on this enjoyable collection but when the mood is constantly bouncing around from story to story, and there is no interconnecting through line or idea, I find myself wondering, why is this one book? What are all of these stories crammed into a single volume? What are they doing together? And this question was brought into further focus by the "Bonus Tracks," a series of four dodecalogues from the author, where he offers insights and observations into the writing process. This series of 48 points offers wonderful witticisms about how stories function ("Restrained lyricism creates magic. Unbridled lyricism, tricks.") and the current condition of literary fiction ("We have become such hybrid authors that any day now we'll make a purist revolution."), but I would like to take a closer look into his point on short stories: "The extreme freedom of a book of short stories derives from the possibility of starting from zero each time. To demand unity from it is like padlocking the laboratory." While short stories should not feel compelled to connect or maintain a certain atmosphere, I am not sure if this is a justification for perpetuating this format. There is so much potential just beyond it. Free the short story from the form!
That being said, this is a marvelous showcase of Neuman's abilities and potential. But please keep in mind: in the end, this is just a sampler. It is enough to spark your curiosity, though will probably coming up short of a fully satisfying reading experience. "It's a fine day today. The sun is flooding the courtyard. My neighbors' unruly washing lines are gleaming, full of promise. Too many clothes to strip their lives bare. My lines cannot be seen."
The Things We Don't Do by Andrés Neuman, translated by Nick Caistor and Lorenza Garcia
Open Letter
ISBN: 978-1940953182
190 pages