January 2016
An Interview with Toni Sala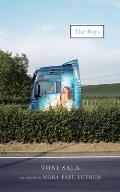 Catalan author Toni Sala's latest novel, The Boys, won Catalonia's most prestigious literary prize in 2014, Premis de la Crítica, and it has been called Sala's masterpiece. This month Two Lines Press releases The Boys, translated into English by Mara Faye Lethem. Set in the small Catalonia town of Vidreres, it's a story of the death of two young men in a car crash and how their deaths impact four other people. In the book, which Kirkus calls "altogether brilliant," and compares to Russell Banks's The Sweet Hereafter and Edgar Allen Poe, Sala mediates on death and love and loss as well as the Spanish recession.
Sala visited the United States for the first time to do a brief tour for his book. He sat down with Bookslut at his Union Square hotel to talk about writing from multiple perspectives, the importance of the Catalan language to the culture, and how literature gives us the means to think about love and death.


Do you think of yourself as a Catalan writer? What does that mean to you?
It's very important to be a Catalan writer because for us the Catalan language is the main thing of our culture. So literature is something essential to our culture. We have a very strong tradition of writing from the Middle Ages and that connects us with our past. For example, in the dictatorship of Franco when Catalan was prohibited outside, and you could only speak it with your families, then the poets became the link with our past and our culture.
Being a Catalan writer means even more than being a painter and an architect -- we work with the language, so we're expected to make the language stronger. There was a poet working during the dictatorship who said, "We live for saving you the words." Literature is something that must be universal at the same time it's engaged with politics, and that's not always a good thing.
In The Boys, you deal with the economic collapse in Spain. Why did that seem important to write about?
My book has to do with identity because I'm telling a story about death and how death makes us be who we are. The crisis also has to do with the personality because in Spain 15 or 10 years ago we thought we were very, very rich. It was a kind of lie promoted from the government. They told us, "OK, we are rich, buy houses, build houses," and everyone did. It was strange because our culture was not of a rich country, but people believed we were rich. Then suddenly there was this crisis, and you felt again you were poor, and you recognized yourself as a poor country. That allowed us to discover ourselves again. This crisis is awful, especially for the young people, and that's in my book. Unemployment is up to 50 percent for young people. It's horrible. I have an 18-year-old daughter, and she has studied, and probably she will not have this problem, but when I see young people, I think what an awful world we have given to them. Now they have to leave Spain, and a lot go to Germany. What a country that doesn't have room for its own kids. Some critic who reviewed this book said maybe the car crash was symbolic of our economic crash. I hadn't thought of that, but maybe. [laughs]
What do you think people are responding to so strongly in this book?
Maybe because it's about something very intimate, death, an experience everybody has, but it's difficult to share. Some experiences are easy to share, but others, especially love and death need a deeper communication, and that's what literature is about. Everybody has thought what would happen if some person in their life died and how that would change them, and this is a book on how the death of two young people affects life for four other characters and how it changes their personalities, their identities.
Now in Catalonia we are involved in this independence movement, and day by day we are asking ourselves who we are. The book has four parts and every part is about one character. And each one is closer to Vidreres. The first one is a banker who comes from out of town; then the truck driver is from the next town; the fiancé of one of the dead boys is from Vidreres; and the last character is even more from Vidreres than she is because he will inherit land there. You come closer and closer to the earth and the relation between the earth and us. This is something I think has to do with this political moment we are living so intensely in Catalonia for the last four or five years.
What was the impetus to write this novel? Was it a character or the car crash or what?
There was an accident in my hometown where one boy died, and it weighed on me a lot, maybe because I have a daughter. You keep something that happens in mind, that interests you and worries you, and, in order to write, you need something strong that interests you. It's like a point of gravity -- and this happened, and I didn't want to locate the story in my town, so I chose another town. First I had this character, the banker, and I thought it would only be his story. But later came this lorry driver and the girl and the artist, who in some way represents the writer, too. That preoccupied me, the relation between what you are writing about and your implication with it. This is an awful boy who kills animals -- it was not easy to write about. To write this in some ways you have to think like him. I had a bad experience being inside this man. Primo Levi was the writer always thinking about the Holocaust, and he said, "You must be careful because to understand has to do with forgiveness."
Why did you use multiple perspectives? Had you done that before?
It's the first time I did this, but it's very useful for a writer. Writing always has to do with ambiguity, with shadows, with something you cannot explain exactly. If you have four points of view, one denies the other and allows you to not give a clear answer. Writing is about the uncertain, like what I said about love or death. There are things you can only speak of with literature. What we know about love or death is because of literature.
What authors have influenced you?
Well, I read classic Catalan authors. We have an important literary tradition, but others don't know it because of the language. For the rest of the world, knowing who Miró or Dalí or Gaudí are is usual. But in literature, we have the same giants as in painting and architecture, but because of the language people don't know them. There's Josep Pla, and another great author is Mercè Rodoreda. But for me the most important in Catalan writer in the twentieth century is the poet Josep Carner. And then outside of Catalonia, I like Philip Roth and Henry Roth, Saul Bellow, Cormac McCarthy, and Paul Auster.