« February 2016
|
Main
|
April 2016 »
March 9, 2016
Hey guys.
In May, we'll be celebrating our 14th anniversary here at Bookslut. I really have been running this site my entire adult life. Which is why it's a little scary to say: the May issue will be our last issue. I've decided to cease publication of Bookslut.
I want to thank everyone who wrote for us, copyedited for us, sent us books, took our books away (always too many books!), and everyone who read us. It means a tremendous amount to me.
We'll be having a wake for our dear little slut, May 6, at Melville House in Brooklyn. It's fitting that we're ending things there, because Dennis and Valerie have been my absolute loudest supporters and allies since the very beginning, and Moby Lives was the one that started it all.
The archives will remain up until the apocalypse comes. Thanks for keeping me company through the years.
Posted by Jessa Crispin |
link
March 6, 2016
Chicago! Jessa will be interviewing Irvine Welsh — yes,the very same — at the Chicago Humanities Festival this Tuesday evening. They'll be speaking about, among other things, his latest novel, A Decent Ride.
I hear it features a talking dong griping about not getting laid. If I had a fucking nickle...
Tuesday March 8, 7-8 pm
Chicago Humanities Festival
Bottom Lounge
1375 W. Lake Street
Chicago, IL 60607
More info & tickets
See more of Jessa's upcoming events here on the Spolia Tumblr.
Posted by Ashley Patronyak |
link
March 3, 2016
Daphne Awards, 2016
There are stories we want to hear, and stories we need to hear. Let's be clear, when we give a book or a film or a musician an award, we are almost always rewarding that artist for telling us what we want to hear.
Fifty (-one! because we are so late in doing this!) years ago, we decided the story we wanted to hear was that the women who leave men are bitches and whores, and so we gave literary awards to Saul Bellow's Herzog. This is one year after the release of The Feminine Mystique, remember? And then all of a sudden, right alongside second wave feminism's rise, all of the big male authors that took over the era (and are still incredibly celebrated and influential today) released books that denied women's humanity, that reduced them back down to sexual orifices or dismissed them as bitches. Surprise, surprise.
In order to find other stories to tell and hear, we created the Daphne Awards (although to be honest, I am not 100% sure we are doing this again this year). So here are the winners for the 2015 award.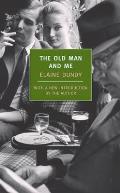 Fiction
The nominees were:
Arrow of God by Chinua Achebe
The Old Man and Me by Elaine Dundy
The Ravishing of Lol Stein by Marguerite Duras
Albert Angelo by BS Johnson
The Passion According to GH by Clarice Lispector
Short Friday by Isaac Bashevis Singer
And the winner is, The Old Man and Me by Elaine Dundy.
I think the assessment is that Duras and Lispector split the vote, allowing Elaine Dundy to triumph. But what we liked about it was its tough frankness, its sexuality, its awareness of the power dynamic between men and women. It's also funny as hell. It doesn't have the metaphysical quality of Lispector, nor the charming absurdity of the Johnson, but it's flinty as hell and is best accompanied with a large quantity of gin.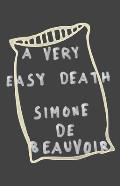 Nonfiction
The nominees were:
Non-fiction
An Area of Darkness by VS Naipaul
Giordano Bruno by Frances Yates
Shadow and Act by Ralph Ellison
A Very Easy Death by Simone de Beauvoir
The Bastard by Violette Leduc
Winner: A Very Easy Death by Simone de Beauvoir
There is a sterling quality to the de Beauvoir, every word aches on the page. It also illuminates a thorny and surprisingly fresh-seeming topic: the mother-daughter dynamic. And by which I mean, the not Hallmark Card version, the not Meryl Streep dying so prettily of cancer version. The discussion over this award had a sidebar, something along the lines of is Naipaul too much of a fucking disaster to give an award to, despite his obvious gifts, and the decision here was yes. Even if he was still in the running, de Beauvoir outdid him with dignity and elegance.
Poetry
The nominees were:
Language by Jack Spicer
77 Dream Songs by John Berryman
The Sonnets by Ted Berrigan
Lunch Poems by Frank O'Hara
O Taste & See by Denise Levertov
The Dead Lecturer Poems by LeRoi Jones/Amiri Baraka
The winner: O Taste & See by Denise Levertov
I am using Nicholas Vajifdar's assessment of Levertov from the final decision, because I think it is the perfect summation: "the sonic density, the comedian-level sense of timing, the unembarrassed vision. Those traits too are what I like in poets, and are rare. One of the best of the last century." Baraka was passionately advocated for, but in the end, Levertov was the center space.
There you have it: an all woman victory circle. Death to the patriarchy.
Many, many thanks to our judges: Hoa Nguyen, Lorraine Adams, Manan Ahmed, Sonia Faleiro, Austin Grossman, Margaret Howie, Nicholas Vajifdar, Amy Fusselman, Stephen Burt. May the spirits of forgotten dead writers bless you and protect you.
I enjoy this award so much. Give me a week to recover and decide whether we can do this again.
Posted by Jessa Crispin |
link